Live A La Carte Zoom Voice Over Lessons – Take a Single Focused Lesson as Desired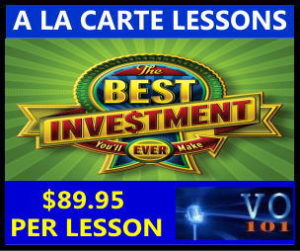 Take beginner voice over lessons LIVE one-on-one with Anthony Reece via Zoom Video. Select any 1 lesson listed at a time and train as you desire
Study live with Anthony Reece on any of the listed Beginner Zoom topics below. The beginner voice over training offers the beginner, voice over lessons LIVE via Zoom Video sharing a different beginner topic in ea
VO101 offers LIVE voice over A La Carte lesson options, from all 3 of the popular LIVE Power Plans. The beginner plan, intermediate plan and advanced plan, train you on various voice over delivery techniques, to effectively compete as a voice talent today.
—————————————————————————————————————————————————-
Have a look at the 3 A La Carte plans below, and consider which lesson is right for you at only $89.95 per hour long lesson.
A La Carte Plans at VO101
Here are the current a la carte single lesson options at VO101.
Need Voice Over Demo Production? Click here now!
#voiceoverlessons #voicetraining #onlinevoiceovercourses #voiceoverclass #voicecoaching #voiceovercoach #vo101