Online Beginner Voice Over Course – Learn The Basics of Voice Overs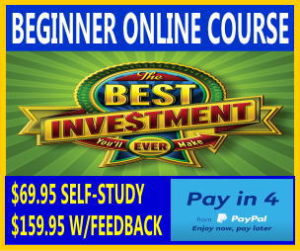 Voice Over coach Anthony Reece and VO101 offer this Online Self-Study Voice Over Course sharing the basic information you need to start a career in voice overs. This course offers 16 lessons online for those starting a career in the voice over business.
Each lesson also includes audio and video options, along with self-tests after each lesson and pdf lesson papers.
Option 1) $69.95 – Enjoy the online voice over self-study course and study online at home, work or school. Course offers video and audio media, pdf papers for each lesson, and a self-test quiz after every lesson.
Option 2) $159.95 – Enjoy feedback on lessons 11, 12 and 13 from Anthony. Course offers video and audio media, pdf papers for each lesson, and a self-test quiz after every lesson. Study online and enjoy personal feedback sent from Anthony Reece after you record the homework on papers 11, 12 and 13.
ENJOY LIFE-TIME ACCESS: You will have life-time access to the online voice over course and all 16 LESSONS as part of the general course, plus self-testing on all 16 lessons. 
NOTE: This is a basic online voice over course and does NOT cover advanced delivery techniques, or advanced voice over training. Those are covered in regular Private Voice Over Lessons, or the popular Live Power Training Plans.
Learn voice over basics online, anywhere you can access the internet. Your online voice over course access is FREE for life, so you can return and refresh you knowledge, or enjoy new content added as often as you'd like.
WHAT YOU WILL LEARN: General knowledge you need to know starting a career as a voice talent.
————————————————————————————————————————————–
The 16 General Topics and Online Subjects Covered Include…
1) Introduction to Microphones
Discover the the preferred microphones for doing voice overs.
2) Your Computer Sound Card
Learn if your computer and sound card are ready for recording.
3) Using Audio Editing Software
Getting familiar with your chosen audio software.
4) General Industry Terminology
Uncover the buzz words, lingo and terminology used in voice overs.
5) Industry Titles and Roles
Who does what, when, where and why in the voice over industry.
6) Being a Directable Talent
Find out what it really means to take direction as a voice over artist.
7) Voice Over Audition Process
Find auditions, prepare, record and submitting of your auditions.
8) The Voice Over Types
The difference between voice overs, narrations, imaging, characters and more.
9) Typical Recording Lengths
Find the facts on typical voice over recording lengths.
10) Recording, Editing and Delivery
The basics on recording using your software and saving a mp3 file.
11) Broadcast Voice Overs
The radio and tv approach as a voice over talent.
12) Industrial Narration and Telephone Messaging
Doing narrations for videos, dvd's, audiobooks, documentary, and telephones.
13) Character Voices
Creating character voices for apps, animation, games and cartoons.
14) Voice Over Demo Production
The steps and thoughts about making a successful voice over demo reel.
15) Marketing Your Voice
How to market yourself as a voice talent after you are ready to compete.
16) Must Have Business Tools
Learn which business tools you'll need as a professional voice talent.
The VO101 online course features MP4 Video format, along with MP3 Audio format available within each lesson.
As a online voice over course student you also enjoy a PDF Lesson Paper for each lesson to download and save. This way you can study off-line as well as follow each of the course lessons using a paper document. Plus use the built-in online self-grading lesson tests, to self-test within the lesson window to be sure you're learning.
OPTIONAL RECORDING REVIEW:

If chosen you also receive feedback on your recording of papers

11, 12, and 13.

This feedback is sent as 3 mp3 audio files from Anthony for your review and archives. Just select this optional feedback plan below. Then use the

UPLOAD

tool to send them to Anthony and he will review your audio homework.
This is a complete online, self-study voice over training program. Once complete, you WILL know the basic information required to start a voice over career, and do business as a professional voice over artist.
Your total investment for the online beginner voice over course is $69.95 OR $159.95 if you select the online course and audio mp3 feedback option. Payment can be made by credit, or debt card using the PayPal system.
Register today below via our secure PayPal and start learning voice overs and voice acting tonight.
PAYMENT OPTIONS BELOW (effective april 2023)
1X FULL PAYMENT – $69.95 online course only / $159,95 online with feedback from anthony reece.
PAY LATER OPTION 1 – $69.95 online only course @ $17.48 down, then 3 payments of $17.48 every 2 weeks.
or 
PAY LATER OPTION 2 – $159.95 online course with feedback @ $39.98 down, then 3 payments of $39.98 every 2 weeks.
NOTE: "no refunds" are offered for the "beginner course" due to the digital nature of the program content and any video reviews sent by anthony. all sales are final. any refund offered by vo101 is less 32% paypal fees, any rendered hourly work already performed by Anthony @ $89.00 per hour, and any admin charges.