VOICE OVER STORE – Find Useful Small Voice Over Studio Gear!
Save Money on Mics, Speakers, Mixers and Other Sound Products.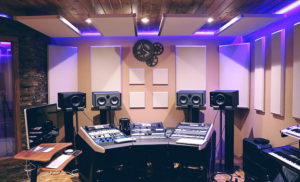 PLEASE NOTE: THIS PAGE AND ALL OUTSIDE LINKS ARE REPUTABLE RESOURCES. THIS PAGE IS SECURE EVEN THOUGH OUR SSL CERTIFICATE MIGHT NOT COVER ALL OF THE LINKS SHARED! -ANTHONY REECE
Are you a new voice talent, or working voice actor looking to save money setting up a small home based voice over recording studio?
Good news! Voice Over Coach Anthony Reece of VO101 has done some of the research for you and suggests these products and services for students and talent.
Home Studio Items of the Month
VO101 research and tested items for your home studio.
| SMALL BOOTH COOLER | MIC WEDGE BUNDLE | FLEX SCRIPT HOLDER | DESKTOP RING LIGHT |
| --- | --- | --- | --- |
| | | | |
YES! You can set-up a small home based recording suite for under $500.00.
* SO WHAT ARE THE BASICS YOU REALLY NEED IN A HOME STUDIO PACKAGE? CLICK HERE AND SEE A LIST.
At bottom are some professional resources and places to purchase affordable recording tools and services.
Save some cash on pre-selected condenser microphones, usb microphones, small studio mixers, usb style mixers, studio speakers, sound enhancers, signal processors, compressor/limiters, studio workstations, sound form, pop-screens, cables and more.
Anthony has already researched these companies, done business with them, or recommends the products shown. Review the links below and save money on gear now.
To be a professional you MUST have a professional microphone and pro gear. You'll find great links to affordable products and tools below. * Need Technical or Studio Consultation? Click Here Now.
Need FREE Software? See a few freebies we have tested below…
Free Video Editing Online (use free personal version)
Need FREE Audio Software? See a few freebies we have tested below…
Free NCH MixPad (select free version)
Need FREE Video? See a few freebies we have tested below…
See a List of Items Required to Set-Up Your Home Studio Here Now.
* VOICE OVER STORE CATEGORIES FOR STUDIO GEAR, AT AMAZON:
Amazon Professional Studio Gear - Links