Voice Over Coaching – Monthly Voice Coaching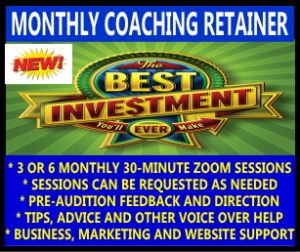 Many voice talent asked, so Anthony now offers a new monthly voice over coaching retainer service for voice talent worldwide. These are fast Q&A style 30-minute Zoom sessions.
This programs offers you the ability to have Anthony on-call every month when you need audition help, have business questions, need help with a quote, or have website / SEO issues and need some honest feedback.
NOTE – This is a Zoom service, so each session is also recorded on video and/or in audio so you can review the session again later. 
Here are only a few ideas of what you can use the 30-minute sessions for…
Live pre-audition rehearsal, real direction and honest audition feedback.

Post-recording audition reviews before submission to the prospect.

Voice Over techniques, recording help, and other delivery advice.

Demo reviews and a other sound-check related concerns.

Review of your logo, head-shot, overall branding and image from a professional viewpoint.

Business advice, tips, help, or other day to day doing business help.

Proper cellphone, microphone OR webcam help.

Marketing advice, ideas and general social media questions.

Website help, tips and advice related to the use of a website and SEO tips and tricks.
NOTE: THE RETAINER PROGRAM INCLUDES 3 X 30-MINUTE SESSIONS OR 6 X 30-MINUTE SESSIONS OVER 30-DAYS! ALL SESSIONS NOT USED DO NOT ROLL OVER TO THE NEXT MONTH.

———————————————————————————————————————————————-
Register below and enjoy 3 x 30-min sessions as needed each month with Anthony Reece.