A La Carte Live Beginner Zoom Voice Over Lessons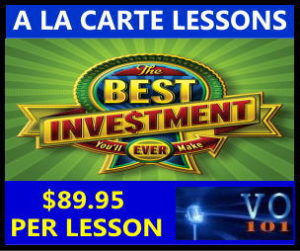 Take beginner voice over lessons LIVE one-on-one with Anthony Reece via Zoom Video. Select any 1 lesson listed at a time and train as you desire.
Study live with Anthony Reece on any of the listed Beginner Zoom topics below. The beginner voice over training offers the beginner, voice over lessons LIVE via Zoom Video sharing a different beginner topic in each class.
Each voice over lesson is 1 hour, and taught in-person by Anthony Reece LIVE and then recorded for you to review later.
If you are SERIOUS about starting a career as a new voice talent, yet have a tight budget, this A La Carte option will assure you understand how to become a professional voice over talent in today's market.
EVERY LESSON IS SCHEDULED AROUND YOUR OPEN TIMES

.
Your total investment is only $89.95.per lesson. Now that is REAL bang for the buck when compared to other class coaching lessons within the industry.
If you're SERIOUS about starting a professional voice over career, this is the BEST investment and value throughout the entire voice over training industry. Just check around, you'll soon see. 
HERE WHAT IS OFFERED IN THE A LA CARTE LESSONS.
1 -Uncovering Microphones: Discover the preferred microphones for doing voice overs.
-Recording on Your Computer: Learn how to record audio on your computer.
-Audio Editing Software: Set-up and using your audio editing software.
2 – Industry Terminology: Learn the buzz words, and terminology used in voice overs.
-Studio Titles and Roles: Who does what, when, where and why in voice overs.
3 – Being a Direct-able Talent:  Uncover what t it really means to take direction as a voice artist.
-Interpreting Scripts and Copy: Learn how to interpret copy, or scripts within media project.
4 – The Voice Over Audition Process: Find auditions, prepare, record and submission of your auditions.
-Uses of Voice Overs Today: The difference in voice over, narration, imaging, and characters.
-Genre Recording Lengths: The facts about typical voice over recording lengths and delivery.
5 – Recording Radio / TV Voice Overs: Learn about radio and tv voice overs. (includes live reads) 
6 – Narrations and Telephone Messaging: Learn about narrations and telephone messaging. (includes live reads)
7 – Character Voices: Learn about character voice overs for animation, games and cartoons. (includes live reads) 
8 – Voice Over Demo Production: Steps to making a successful voice over demo reel. -Website, Casting Sites and Marketing:  How to market yourself as a voice talent and compete. -Must Have Business Tools: The business tools you'll need as a professional voice talent.
BONUS ITEMS INCLUDED IN TRAINING!
* Countless Tips and Advice Shared during each live lesson with Anthony/
REGISTER FOR A LESSON AND START YOUR VOICE OVER CAREER RIGHT!
Register today and start training with Live Beginner Voice Over Lessons personally with Anthony Reece Your investment is only US $89.95 per class selected. Payment can be made by credit, or debt card using the PayPal system below.
(NOTE: once lesson is booked "no refunds" are offered due to limited student space each day.  all power lesson sales are final unless cancelled by vo101 and anthony reece)