A La Carte Intermediate Zoom Voice Over Lessons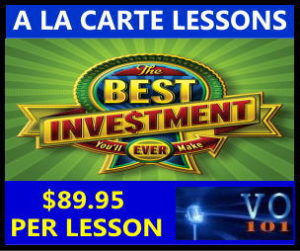 Take LIVE A LA Carte Intermediate lessons and learn intermediate techniques in a LIVE lessons via Zoom Video.
Study live with Anthony Reece in these A LA Carte style Intermediate LIVE single lessons below. Take 1 lesson as you desire and as many as you want to.
These voice over training lessons offer the working talent voice over lessons LIVE via Zoom Video.
Similar to the advanced zoom classes, each of the 60-minute voice over lessons below, are held LIVE and taught by Anthony Reece LIVE and recorded for you to review later.
If you are SERIOUS about taking your career to the next level as a voice talent, yet have a tight budget, this A LA Carte option will fit your budget.
EACH LIVE LESSON IS SCHEDULED AROUND YOUR OPEN TIMES

.
Your total investment is only $89.95 per class. Now that is REAL bang serious for the buck when compared to other class coaching lessons within the industry.
This is the BEST investment and value throughout the entire voice over training industry. Just check around, you'll soon see.
WHAT IS OFFERED IN EACH INTERMEDIATE ZOOM VOICE OVER LESSON?
As a Intermediate A LA Carte student you can pick and choose from any of the class topics below, learning how to become a more competitive, professional working voice talent with these advanced voice over lessons.
* A LA Carte Voice Over Training and Techniques Offered: (all include live reads with Anthony)
1- Learn the Five Primary Voice Over Colors and How to Apply Each to Your Reads
2- Selecting Proper Voice Over Emotions and Attitudes
3- Working with Voice Over Inflections, Inflections and Tones
4- Natural Voice Over Stalls, Patterns, Pacing and Word Movement
5- Using Dynamic Word Emphasis and Dynamic Phrase Emphasis in Voice Over
6- Discover How to Use Your FULL Vocal Range & 3 Primary Voice Over Registers
7- Developing Better Voice Over Speech Skills Such as Enunciation, Diction and Articulation
8- Voice Over Business, Social Media and Marketing tips, Ideas and Insight.
* Countless Tips and Advice Shared during each live lesson with Anthony
REGISTER TODAY FOR A LESSON AND FIRE UP YOUR VOICE OVER CAREER!
Register today for any of the LIVE Zoom A LA Carte lessons and learn with Anthony Reece.
Your investment is only US $89.95 per class. Payment can be made by credit, or debt card using the PayPal system below. (pay as you learn picking any 1 lesson)
(NOTE: once lesson is booked "no refunds" are offered due to limited student space each day.  all power lesson sales are final unless cancelled by vo101 and anthony reece)