Live 9-Week Beginner Voice Over School | VO101 Beginner School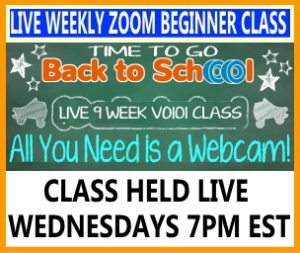 Ready to learn voice overs with Anthony? This is a live weekly Beginner Training Plan.
NEXT 9-WEEK CLASS STARTS: MONDAY FEB 20TH @ 7PM EST…..YOU MUST PRE-REGISTER BY 7PM FRI FEB 17TH
This beginner voice over training class offers the beginner, voice over lessons LIVE via Zoom Video worldwide with Anthony Reece. Students also enjoy FREE access to the online course.
—————————————————————————————————————————————————-
HOW: Each of the "9" hourly weekly lessons, are instructed personally by Anthony Reece LIVE and are recorded in mp4 for your review later.
WHY: If you are SERIOUS about starting a career as a new voice talent, you must understand the business and main genres as well, how to be a professional voice over talent.
OBJECTIVE: Each live lesson is designed for you the beginner, sharing 9 hourly voice over lessons, complimented by the online course.
TOPICS: Each lesson covers all the topics shared below and within the included free online course. This is a beginner course for those just starting their voice over career.
—————————————————————————————————————————————————-
The Beginner Class includes (1) one weekly voice over class lasting 60 – 75 minutes by Zoom.
BONUS: You also enjoy a $50.00 discount on any new demo after training if requested.
No corporate sales pitch, or up-sell here. What you see and invest in is what you get. You are educated on voice over by a veteran voice over talent, voice casting director, and media producer whom has been there done all of that for 35 years.
This is by far the MOST AFFORDABLE in-person and online Zoom Video voice over class in the industry today. PERIOD!
If you're SERIOUS about starting a professional voice over career, this is the BEST investment and value throughout the entire voice over training industry.
Still not sure? See what other voice talent say… watch and read talent feedback
HERE ARE THE TOPICS COVERED!
WEEK 1…
Paper 1 – Uncovering Microphones: Discover the preferred microphones for doing voice overs.
Paper 2 – Recording on Your Computer: Learn how to record audio on your computer.
Paper 3 – Audio Editing Software: Set-up and using your audio editing software.
WEEK 2…
Paper 4 – Industry Terminology: Learn the buzz words, and terminology used in voice overs.
Paper 5 – Studio Titles and Roles: Who does what, when, where and why in voice overs.
WEEK 3…
Paper 6 – Being a Direct-able Talent:  Uncover what t it really means to take direction as a voice artist.
Paper 7 – The Voice Over Audition Process: Audition preparation, recording and submission of your auditions.
WEEK 4…
Paper 8 – Uses of Voice Overs Today: The difference in voice over, narration, imaging, and characters.
Paper 9 – Genre Recording Lengths: The facts about typical voice over recording lengths and delivery.
WEEK 5…
Paper 10 – Using your Audacity audio software: Audacity software check-up and editing tips.
WEEK 6…
Paper 11 – Recording Radio / TV Voice Overs: Learn about radio and tv voice overs. (includes live reads) 
WEEK 7…
Paper 12 – Narrations and Telephone Messaging: Learn about narrations and telephone messaging. (includes live reads)
WEEK 8…
Paper 13 – Character Voices: Learn about character voice overs for animation, games and cartoons. (includes live reads) 
WEEK 9…
Paper 14 – Voice Over Demo Production: Steps to making a successful voice over demo reel.
Paper 15 – Website, Casting Sites and Marketing:  How to market yourself as a voice talent and compete.
Paper 16 – Must Have Business Tools: The business tools you'll need as a professional voice talent.
PRE-ENROLL TODAY AND START YOUR VOICE OVER CAREER!
Start training with Live Beginner Voice Over Lessons personally with Anthony Reece and his private beginner voice over training program!
PAYMENT OPTIONS!
(note – payment is due friday feb 17th 2023)
1X FULL PAYMENT – $299.00 in-full for the 9-week zoom school
PAY LATER OPTION – $299.00 @ $74.75 down, then 3 equal payments of $74.75 every 2 weeks.
NOTE: "no refunds" are offered for the "live class school" due to the digital nature of the program content and videos sent by anthony. all sales are final. any refund offered by vo101 is less 32% paypal fees, and $50.00 per class already attended.